Total 500 pages, valued at US$160, you can get it for just US$19!
This offer is available from September 25th to October 4th 
and will never be repeated.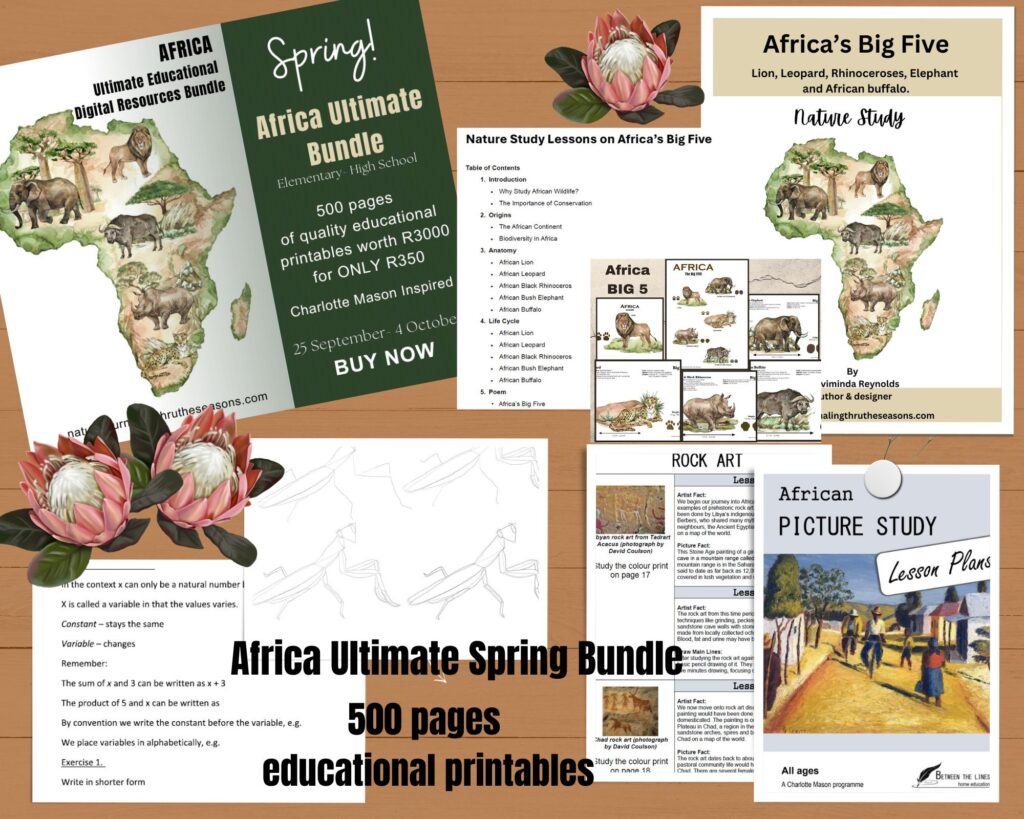 Get ready for the Spring Ultimate Learning Adventure with a bundle that will take your African Unit Study to the next level! Dive into a world of knowledge, creativity, and fun with our incredible selection of educational digital printables and resources, perfect for elementary through high school learners.
Africa's Big Five Nature Study: Explore the wonders of African wildlife, from the majestic lion to the elusive leopard. Learn about their habitats, behavior, and adaptations.
Between the Lines African Picture Study: Immerse yourself in the beauty of Africa through art. Discover captivating African landscapes and wildlife with this picture study.
How to Draw Insects: Unleash your artistic talent and learn to sketch intricate insects with step-by-step guides.
South African Wild Flowers: Dive into the vibrant world of South African flora. Explore the diversity of wildflowers with stunning illustrations.
African Wall Art Prints: Decorate your learning space with breathtaking African-themed wall art prints.
Mathematics and Pre-Algebra: Strengthen your math skills with comprehensive worksheets and exercises.
Undated Homeschoolers Planners: Stay organized and plan your homeschooling journey with ease.
Insects and More: Delve into the world of insects and other fascinating topics.
African Animals Posters and Wildflowers: Adorn your walls with educational posters featuring African animals and wildflowers.
African Silhouettes and Tracks: Explore the mysteries of African wildlife through silhouettes and track identification.
Colour Theory: Understand the world of colors and how they impact our lives.
This incredible bundle spans 500 pages and is valued at US$160, but for a limited time, you can get it for just US$19! This offer is available from September 25th to October 4th and will never be repeated.
Created and Designed by Three Proud Talented Homeschool Moms: Our resources are crafted with love and expertise, ensuring an enriching learning experience for your family.
Thank you @JackieHerrman & Antoinette Marlow for partnering with me on our Africa Spring bundle 1st Edition for homeschoolers. Your contributions have been invaluable and look forward to continuing our successful collaboration.
Thank you
Don't miss out on this ultimate spring learning adventure! Grab the Africa Ultimate Spring Bundle and unlock a world of knowledge and creativity. Perfect for homeschoolers, educators, and anyone passionate about Africa and its diverse wonders.